I'm writing to let the people understand a little about my daughter. Her name is Caitlyn, she is 14 years old and was diagnosed with CHARGE SYNDROME a few hours after birth. Here is her story. When I was pregnant with her in 2002/2003, I thought that I was going to have a healthy baby girl. The 42nd week of pregnancy the Dr. decided we needed to induce because my fluid was low. March 11, 2003, I was induced at 6 am. She was born at 2:42 pm. Little did we know what we were about to be facing. First, my mom noticed her eye (she was missing part of her eyelid) so we were, thinking no big deal that's easy to repair. Well, time went by and the nurses noticed her color was changing. They took her to the nursery and the doctor looked at her. Noticed she had a hole in her heart. The dr. called Children's in Dallas. The only time I got to hold her was when the care flight team was taking her out, they took her out the incubator to hold her just a few seconds. I then knew I was headed on a journey. The hole in her heart saved her life, that was the only way the blood was flowing through her heart. On day 3 at children's, she had a LADS procedure to repair moul rotation (twisted intestines). On day 8 at children's, her first heart surgery to put a VP shunt in place to help with her blood flow. I spent 8 months to a year in children's with Caitlyn. When Caitlyn was about 3 months old, she needed another shunt put in her heart. At 9 months Caitlyn needed a Central Shunt.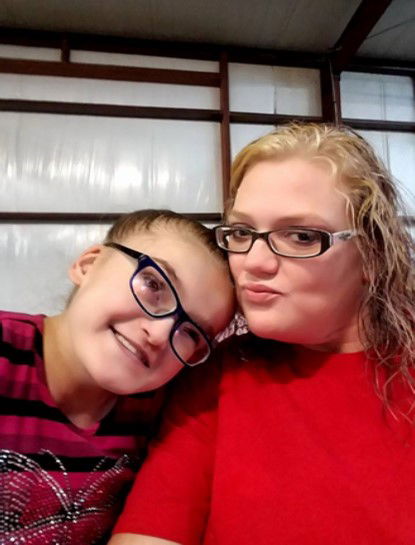 Well, this time they couldn't get her off the ventilator. We waited for weeks trying to get her off the machines and no success. 6 weeks after her heart surgery the Dr. said we need to put a Trach in. Caitlyn then was placed on a ventilator and had the trach for around 8 years. Now that she was trached we went through the G-Button placement and the Nissen procedure so she couldn't vomit and aspirate. Her next heart surgery was to put a Glenn Shunt in to open more valves for more blood flow. This surgery went well until we got home. A few days after surgery her chest grew larger than the length of her chin. I took her to the E.R at children's in Dallas. She has gotten a horrible infection. The surgeons had to open her up and leave her open for 6 weeks with a wound vac connected to draw out the infection. In all this her chest had become so big it broke her sternum bone. After the infection was clear, they went back in to wire her sternum back together. So now we had the trach, g-button, ventilator, hooked up to a mist machine, scoliosis, 2 missing ribs, hernias, hearing impaired, vision impaired, 4 heart surgeries, and much more. Through all the trial we have been through, the surgeries, the stay at children's house for training so I could take my baby home, the in and out hospital stays, the therapy, and finding good nurses to trust with her. I found the best nurse for her when she was 9 months old, and he is still with us today. He has dedicated his time to Caitlyn and they have the strongest bond. I am grateful. We are now at a spot to where she is not a candidate for the heart surgery she needs. Her cardiologist has searched for a surgeon and she has a very high-risk rate for the surgery. I will not risk her living her life for a surgery they may make her worse. She can't have the surgery for her back to straighten up her spine due to her heart problems and her heart just isn't strong enough to go through a major operation. I am reaching out to everyone because the only option is given was a Halo Traction, that was told to me by the President over Spines at Scottish Rite Hospital in Dallas. With no other choices to give my baby some relief. I believe God put in my heart that this is my only chance to help her. Give her relief to her lungs from her spine shifting, relief on her organs, and to have relief of the pain she must feel with her back. She is now on a bi-pap vent at night to help bring down the c02 in her body and remind her to take breaths. Her intestines run very slow due to lack of blood flow and oxygen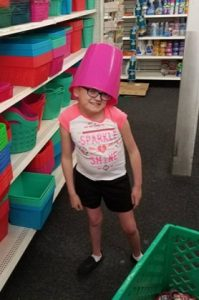 to her gut. We are praying the Halo will help everything flow better. We are needing help in our home to make this possible for Caitlyn to get her Halo. I have started what I could to remodel on the inside. She has a new room etc. I am needing to get our home ready for wheelchair and walker accessible, widen the deck, underpinning to keep the air from underneath the house and fix the roof from leaking. Our home is important to the family as my dad and his family grew up here. I am asking for any donation in material, can donate to build more to our porch. Anything would be appreciated. If you can even donate if you are a contractor or builder etc. I was thinking we wouldn't plan the halo until a later date. The doctor wants it done by the end of February, but it is closer than expected and the help would be great.
I hope I have a clear view of why this is important for me to get done. I have shared just some of her story, I couldn't fit her entire 14 years it would be too much. I just wanted to give everyone a vision, or a clarity on what exactly they would be donating too. Thank you if you took the time to read this. My daughter is such an amazing spirited child. She is always happy unless you tell her no lol. She deserves everything in life. I want her to have a comfortable place to go outside and enjoy it a home where there aren't any worries about her or her health. I have started what I could but still needs so much. Thank you!